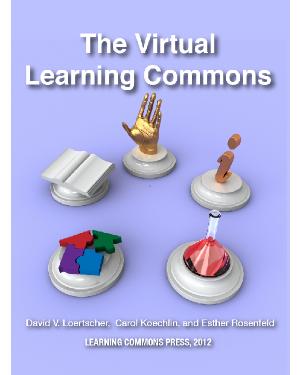 The Virtual Learning Commons: Building a Participatory School learning Community
David V. Loertscher, Carol Koechlin, and Esther Rosenfeld
David V. Loertscher, Carol Koechlin, and Esther Rosenfeld; Learning Commons Press, an imprint of Hi Willow Research and Publishing; 2012; ISBN 978-1-933170-70-1
This book is a companion to and an extension of, The New Learning Commons Where Learners Win 2nd edition, published in 2011. In that volume, we presented the idea that the school library and computer lab be merged into a single entity in the school, and that this new place be reinvented from the ground up in order to become a giant collaborative. 

In the past year, as we have watched Learning Commons develop around North America, we have discerned the need to elaborate on the virtual part of the the Learning Commons that would replace the often bypassed school library website.

Our contribution is brief by design. It is what we hope is just enough of a spark to get you, the reader's, imagination going. In the first part, we lay out the foundational ideas of what a giant participatory Virtual Learning Commons could contribute to teaching and learning in the school. Then, using Google Sites as just one possible tool, we guide the reader to download our free template and get started.

The last few chapters of the book deal with some of the important additional issues that are sure to come up as a school launches this grand experiment. We hope that the reader will be as excited by the possibilities as we are. Education across the world is changing, and we hope that the Virtual Learning Commons will be the vehicle to help both young people and adults learning to work in a global community. It is time to focus on building young people who are in charge of their own learning; a habit that will serve them their entire lives..
ebook version (pdf): $27.00