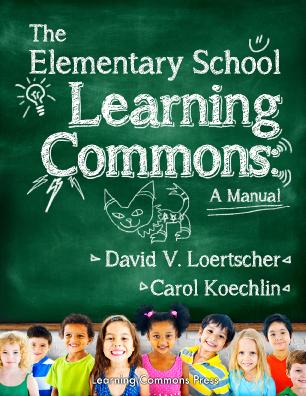 The Elementary School Learning Commons: A Manual
David V. Loertscher and Carol Koechlin; Learning Commons Press, 2015, ISBN: 1-933170-79-4
Since the publication of The New Learning Commons Where Learners Win! 2nd ed. In 2011, both authors realized the need for a more practical guide to the transformation of the school library into the learning commons.
In this manual designed for elementary grades K-6, we have identified 12 important characteristics of the learning commons and then under each of those characteristics, we provide a number of activities designed to be used by librarians, other specialists in the school, administrators, and teachers to are trying to implement the LC concept. We provide the activity, resources, and a wide variety of short videos that will guide thinking and planning. And, because there is overlap of the topics within the 12 characteristics, we provide an index by topic, so that various activities can be compared and conversations, professional development, and planning can happen.
Since this book is a companion to The Secondary School Learning Commons: A Manual, the two books can be used in the same workshop with mixed grade levels. Each activity has a companion in the other volume but with resources and ideas that might be different for the various age and grade levels.
We think readers will find a plethora of ideas and resources that will fulfill many needs as the learning commons concept is planned and implemented.
ebook version ($28.00):